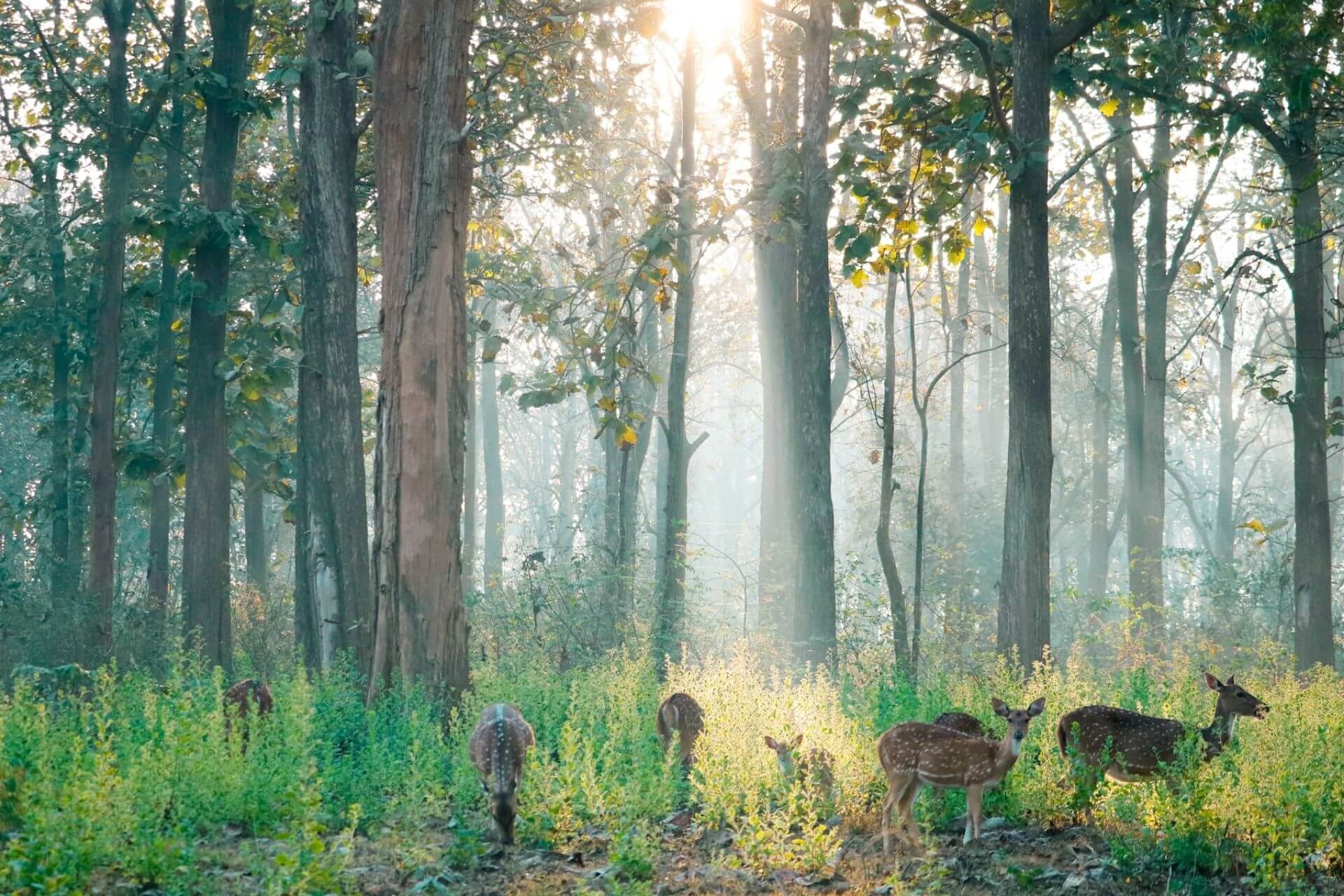 (courtesy: praveenkumar)
Nagarhole National Park Mysore Entry Fee
150 per person for Indians
1500 per person for Foreigners
200 for Still Camera
Nagarhole National Park Phone
---
Rating:

| 4/5 stars
Based on total 53 reviews
Nagarhole National Park Address: Mysore - Madikeri Rd, Hunsur, Karnataka, 571201, India
Mysore Tour Packages

Nagarhole National Park Timings
Day
Timing
Monday
6:45 am – 8:45 am
4:00 pm – 6:00 pm
Tuesday
6:45 am – 8:45 am
4:00 pm – 6:00 pm
Wedesday
6:45 am – 8:45 am
4:00 pm – 6:00 pm
Thursday
6:45 am – 8:45 am
4:00 pm – 6:00 pm
Friday
6:45 am – 8:45 am
4:00 pm – 6:00 pm
Saturday
6:45 am – 8:45 am
4:00 pm – 6:00 pm
Sunday
6:45 am – 8:45 am
4:00 pm – 6:00 pm
Links:
Website
|
Map
Nagarhole National Park Safari Timings
Jeep Safari
5:30 AM to 10:00 AM | 3:00 PM to 7:00 PM
Coracle Safari
9:00 AM to 11:00 AM | 5:00 PM to 6:00 PM
Boat Safari
6:30 AM to 9:15 AM | 3:30 PM to 6:15 PM
Bus Safari
6:00 AM to 9:00 AM | 3:00 PM to 5:00 PM
---
One of the most sought-after tourist destinations in India, the Nagarhole National Park is a place where you can see the bravest of all the animals, the Tiger, roaming fearlessly in the dense forests. It's a place where you can relax and unwind amid the pristine natural beauty. It's a place where you can admire the gorgeous greenery. It's a place that allows you to uncover a variety of lush forests.
Located in the Kodagu and Mysore districts of Karnataka State, the wildlife reserve, also known as the Rajiv Gandhi National Park, is one of the best and the most popular wildlife habitats in India that provides a home to an abundant variety of flora and fauna.
A must-visit attraction for wildlife lovers, nature admirers, photographers, and vivid travelers, the Nagarhole National Park promises to deliver an unforgettable experience through its safari and gives you an opportunity to be with nature.
History of Nagarhole National Park, Mysore
Sprawling over an area of 247 square miles, the Nagarhole National Park was initially a hunting reserve for the former rulers of Mysore. In the year 1955, it was officially established as a wildlife sanctuary.
At that time, it covered a few areas of the forest such as Hatgat, Arkeri, and Nalkeriin Kodagu. However, with time, several other reserve forests were added to increase its overall area, and finally, in 1988, when the park was occupying approximately 643.39 square km, it was upgraded into a national park.
Activities at Nagarhole National Park, Mysore
With innumerable activities available at Nagarhole National Park, you can keep yourself engaged throughout the time. Apart from the safari rides, tourists can go trekking, bird watching, or simply sit back to spot the wildlife animals.
It's a great place for a photography session as well. The diverse landscape, the spectacular woodlands, the mesmerizing sunset by the river, and the ambient light in the backdrop make Nagarhole National Park an ideal location for wildlife photography in India.
Here you can take a stroll inside the park to admire nature at its best or capture the colorful birds and animals in your camera to cherish your visit for a lifetime.
Fauna at Nagarhole National Park, Mysore
Widely famous for boasting a diverse range of wildlife, the prime attraction of the Nagarhole National Park that attracts thousands of wildlife enthusiasts from all around the world for experiencing an exciting jungle safari is the Bengal Tiger.
Other carnivores' species that catch your attention on the way to the forests include Sloth Bear, Leopards, Mongoose, Jungle Cats, European Otter, and the Striped Hyena. The wildlife reserve also provides food and shelter to an adequate number of herbivore animals such as Antelope, Chital, Wild Boar, Sambar Deer, Barking Deer, Grey Langur, and the Indian Elephant. The Golden Jackal and the Indian giant flying Squirrel are a few of the mammals that are rarely spotted here in this region.
A paradise for bird watchers, the Nagarhole National Park is also known for preserving a wide variety of birds. These include the Nilgiri Wood Pigeon, the Oriental White-Backed Vulture, Indian Robin, Indian Peafowl, the blue-winged Parakeet, painted Bush Quail, Malabar Grey Hornbill, and Darters. Apart from the birds and animals, the wildlife reserve also houses endangered snakes, lizards, mugger crocodiles, ants, dung beetles, etc.
Flora at Nagarhole National Park, Mysore
The flora of the Nagarhole National Park is typically rich in nature with mostly rosewood, sandalwood, and teakwood trees being predominant in the southern part of the region. On the other hand, the eastern part of the forest comprises Axle Wood tree, Crocodile Bark tree, and Thorny Wattle tree.
Commonly found species of the dry deciduous forest include the Indian kino tree, axle wood tree, grewia tiliaefolia tree, crocodile bark tree, kadam tree, schleichera trijuga tree, cotton tree, and many more. Other than that, you can also discover a diverse range of bonesets, lantana, tick clover, horse nettles, Indian gooseberry, horse nettles, and kydia calycina species in abundance.
The mesmerizing beauty of the reserve is credited to the flowering trees that have grown here in large numbers. Some of them include the flame of the forest, golden shower tree, etc.
Safari at Nagarhole National Park, Mysore
Visiting the Nagarhole National Park is undoubtedly the highlight of everyone's trip to Mysore. With so much to see and do throughout the day, it is a place where you can experience the world's best safari with a lot of surprises. One can choose from a Jeep Safari, Coracle Safari, Boat ride, or a Bus safari to roam around the park. All the options are equally rewarding and enjoyable.
1. Jeep Safari: Perfect for individuals or small groups, the Jeep Safari is considered the best way to enjoy the wilderness of the Nagarhole National Park. It is an ideal choice for travelers to spot many large and small herbivores in their natural habitat. Each jeep can accommodate up to 6 people along with a driver and the guide. The timings of the Jeep Safari are as follows:
Morning: From 5:30 AM to 10:00 AM
Evening: From 3:00 PM to 7:00 PM
2. Coracle Safari: Another exciting ride here is the Coracle Safari that lets you enjoy a thrilling experience along the edges of the river Kabini on a traditional round-shaped boat. During this adventurous journey, you'll experience many moods of the river along with spotting the land animals as well. The timings of the Coracle Safari are as follows:
Morning: From 9:00 AM to 11:00 AM
Evening: From 5:00 PM to 6:00 PM
3. Boat Safari: For all those who are interested in enjoying the aquatic wildlife at the park, a Boat Safari is a good option to go. It takes place on the river Kabini where you can also witness many other water birds along with the marsh crocodiles. The timings of the Boat Safari are as follows:
Morning: From 6:30 AM to 9:15 AM
Evening: From 3:30 PM to 6:15 PM
4. Bus Safari: If you want to increase the chances of wildlife sightseeing at Nagarhole National Park, you can go ahead with Bus Safari. It operates in 2 shifts and can easily accommodate 20-25 people at once. The timings of the Bus Safari are as follows:
Morning: From 6:00 AM to 9:00 AM
Evening: From 3:00 PM to 5:00 PM
Since a limited number of safari vehicles are allowed to enter the park at once, it is recommended to book the safari in advance and reach the gate at least an hour prior to booking.
Entry Fee and Timings of Nagarhole National Park, Mysore
The entry fee to visit Nagarhole National Park is INR 150 per person for Indians and INR 1500 per person for foreigners. It welcomes its visitors from 6:45 AM to 8:45 AM in the morning and from 4:00 PM to 6:00 PM in the evening on all days of the week. Please note that if you're carrying a camera along with you, you need to pay INR 200 for it.
Best Time to visit Nagarhole National Park, Mysore
To explore the surroundings of Nagarhole National Park, you don't need to wait for a specific time to plan your Mysore tour. However, if you want to make the most of your visit, the ideal time would be during the dry summer season i.e., April and May month. At this time, the animals come out of their space to the lake to quench their thirst, so the chances of seeing them closely increases.
Winter season that starts from November and continues until February is also considered a good time to pave your way towards this park. During this time, the city offers pleasant weather conditions, with temperature sometimes even dropping to 10-degree Celsius, making it a perfect destination for holidaymakers of all ages.
Please note that the Nagarhole National Park usually remains closed during monsoons as the region receives heavy rains from June to September.
Accommodation at Nagarhole National Park, Mysore
As the Nagarhole National Park is the most popular wildlife destination in India that attracts tourists from all over the world, the accommodation facilities here are the best. From high-end resorts to budget-friendly lodges and all-inclusive hotels, it has umpteen options that cater to everyone's needs, preferences, and holiday style.
For example, if you're looking for a luxurious staycation that comes with all the 5-star facilities, you can book top-notch resorts like the Red Earth, the Orange County, the Kaav Safari Lodge, or the Serial Kabini. However, if you're in search of comfort and want to feel like home away from home, then Kabini River Lodge and the Peepal Tree Kabini are best to stay.
Similarly, the Nagarhole National Park also boasts standard accommodation for all those who are up for a sheer balance of budget and richness. You just need to decide where you want to relax and unwind after an exhilarating day at the park.
Travel Tips for Nagarhole National Park, Mysore
Try to reach the Nagarhole National Park before the sunset as the road to the park is prone to elephant blocks and usually closes by 6:00 PM.
Enjoy a boat ride in the afternoon to catch a glimpse of the elephants. If you're lucky, you may be able to spot a tiger in these forests though the chances are very less.
Always wear comfortable shoes as you might need to walk a lot within the premises.
Keep accessories like hats and scarves handy to protect yourself from the harsh UV rays.
Make sure to carry a torch and a mosquito repellent along with you.
Refrain yourself from smoking when you're inside the forest.
Don't litter the park at any cost.
Be careful while booking the hotel you're planning to stay in and see if it provides the facility of Jeep Safari. If not, you can go for a canter safari, which needs to be booked in advance.
How to Reach Nagarhole National Park, Mysore?
Since Nagarhole National Park maintains good transport connectivity to the urban cities as well as the neighboring towns of India, it can be easily accessed by airways, by railways or by roadways. That simply means that you can choose to travel through your favorite mode to get to the destination at your own comfort.
By Air: Mysore Airport, which is the only airport in the city, is approximately 94 Km away from Nagarhole National Park and it receives direct flights from Hyderabad, Kochi, Goa, Bengaluru, and Chennai. However, if you are coming from any other city in the country, you can fly to Kempegowda International Airport in Bengaluru. From there, one can either take a bus or hire a taxi from the top car rental companies in Mysore to enjoy a hassle-free journey.
By Train: Another convenient way to reach Nagarhole National Park is by train. Mysore Railway Station, also known as Mysuru Junction, is the main station that serves as a connecting link between Mysore and many other major cities. It operates around 172 trains from across the country and takes only 4 hours to cover the distance to the park. Once reaching the station, you'll easily find several local transport options that will drop you wherever you want to go within the city.
By Road: Enjoy a road trip to Mysore to witness its mesmerizing beauty and picturesque landscapes on the way. It is considered as the most preferred option for people living in Coorg, Bengaluru, Ooty, Madikeri, and Coonoor. Other than that, there are several private and public-owned buses by Karnataka State Road Transport Corporation that take you to the Nagarhole National Park at pocket-friendly prices.
---
For your convenience, we at Mysore Tourism, a division of Holidays DNA, have designed several customized and all-inclusive Mysore tour packages that help you cover the popular sightseeing places in Mysore. Our team of experts also offers the best travel deals so that you can enjoy your trip at budget-friendly prices. What else do you need to pack your bags now? Just fill the Contact Us form and we will get back to you with an itinerary of your choice.
Location Map for Nagarhole National Park